Home > Edit Layout > Upload image
Upload image
The top section of the opening page can be used to display your event logo. If you do not have an event logo, or prefer to not use this section, just click the Hide button.

When you click the Edit button, this screen will be displayed: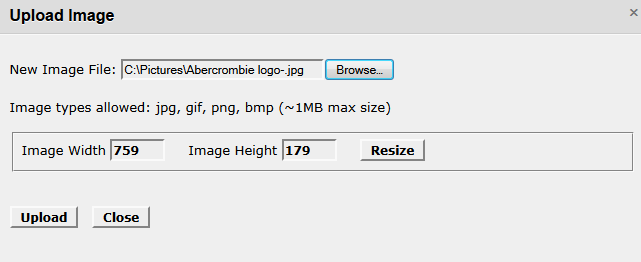 The Browse button will allow you to access your local hard drive or network to select the logo.

The default Image Width and Image Height represent a starting point only.

The upload will attempt to adjust your image for the best presentation.

After you click the Upload button, the image will be loaded and displayed:





If you don't like the size of your logo/ image, click Edit again, change the Image Height and/or Image Width, click Resize and check the image display. You can keep doing this until the image is as you like it.

If you have multiple images, you can use Windows Paint or other software, such as Photoshop to create a single file with multiple or consolidated images.





Occasionally there may be a problem loading certain graphic formats. The best formats for the web include .jpg, .gif or .bmp. Even those formats may be problematic if the file size is too large.

If you have a problem, you can usually use Microsoft Paint or similar to capture an image and save it in a better, more compact format.

One of the most common problems we see is trying to upload an image that is too large. If you use a graphic designer for your image, it will often be quite large. It is very easy to use Paint (part of Windows) to resize your image.

If you would to see an example of how to resize, start the video below.
​

If you can display an image on your screen, you can use Paint to capture and re-save it in a format that works.

The video below will show you how to convert any image that can be displayed on your screen to an appropriate format.


See also