Home > Edit Layout > Setting overall inventory
Setting overall inventory
If needed, you may set an overall limit to multiple registration types. An example of when this may be required would be a seminar where your membership could bring a guest, however you wish to limit guests to a pre defined number of seats.

You could set an overall limit of - for example 100 seats - the capacity of your facility, but wish to limit guests to only 20 seats.

You access the overall inventory by click on the inventory button:



When you cllick the button you will see this dialogue: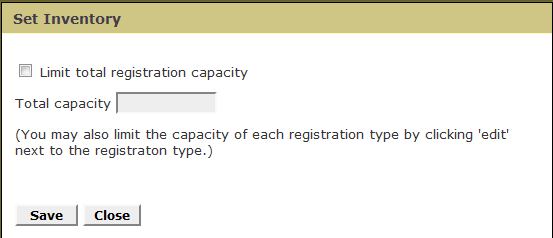 You may enter the total capacity for all registration types.

Note that you can still limit individual registration types and the individual quantities can exceed the total capacity, but the system will not allow you to exceed the total capacity. You must also click / turn on the check box that says Limit total registration capacity.



See also