Home > Edit Layout > Attendee look up
Attendee look up
Your attendees can return to your registration page at any time to look up their own registrations: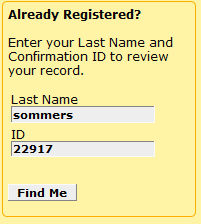 What they will see is a review of all registration items. The review page will also have a button which can be used to re-send their confirmation email.

The attendee cannot change any data in their registration, but you can change some of the items. See Manage event help section for details.

If you do want to provide the look up facility, you can simply Hide this section.



See also