Home > Event / Project home- Manage > Event status
Event status
When you define a new event, it is always in the Testing mode. Once you are ready to change your event status and open it to your attendees, you will want to click on the change status link on the Event Home page: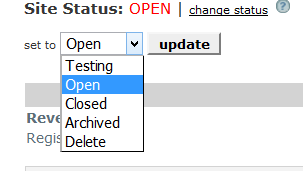 To open your event, choose the Open option on the event status drop down.

If you wish to turn off your event for future registrations or just temporarily close your site, choose the Closed option.

If you want to pass around your event for associates to see and test, be sure to leave it in Testing mode.
If you want to delete this event, choose the Delete option.

If you have a problem with your event and wish to Close it temporarily while you fix the problem, change the status to Closed, fix the problem, then change the status back to Open.

See: I made a mistake and need to STOP registrations

After your event is completed, you may want to choose the Archived option.



See also