Home > Edit Extras > PlanetReg Service fee
PlanetReg Service fee
You can specify on the Edit Extras page how you would like the system to handle service fees.





The PlanetReg service fee can be handled as a separate fee, shown on your attendees financial details or bundled in your fees. The default choice, charge PlanetReg service fee... will cause the PlanetReg fee to be calculated and shown on the attendees financial summary: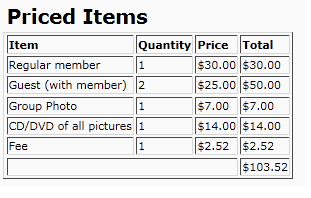 The item is shown as a Fee on pricing details for the attendee.

In the bundled case (do Not charge PlanetReg fee...), you would be paying the PlanetReg service fee from your funds and it would NOT show on the attendee's pricing details. Normally, you would include an approximation of the fee in your charges for the event.



See also